What is Business Intelligence?
It is a fact that a company needs to make many decisions every day, which to some extent will determine its future.
As is logical, it is statistically impossible for all of these decisions to be correct, but what a company should ideally do is to maximize the percentage of correct decisions.
This is done through proper analysis of the data, and all the actions that accompany it.
This is where the concept of business intelligence or business intelligence (or business intelligence) comes in, which helps companies make data-driven decisions.
In today's article, then, we'll look at:
What is Business Intelligence
What is Business Intelligence?
3 tools for Business Intelligence

But let's start with the basics.

Business Intelligence refers to the process where a business combines data from various sources to analyze it and make decisions from it.
Specifically, they combine:
Business Analytics
Data mining
Data mining (data mining)
Software

In order to present complex data in a simple way and to make appropriate decisions (data-driven decisions). How this happens will be shown below, where we will mention some Business Intelligence tools.
In practice, this means that a company that is fully aware of its most important data can limit wrong decisions and adapt more easily in times of crisis. This is the main reason why so many professionals are now training in data science.
In short, a successful exploitation of business intelligence increases the accuracy, quality and volume of a company's data, while controlling that data for errors and structuring it in an optimal way.
It can therefore be seen that the right business intelligence can provide multiple benefits for an organization.
Let's look at them in more detail.

Although we could list multiple advantages of business intelligence, we will dwell on the 4 most basic ones that are of value to a business.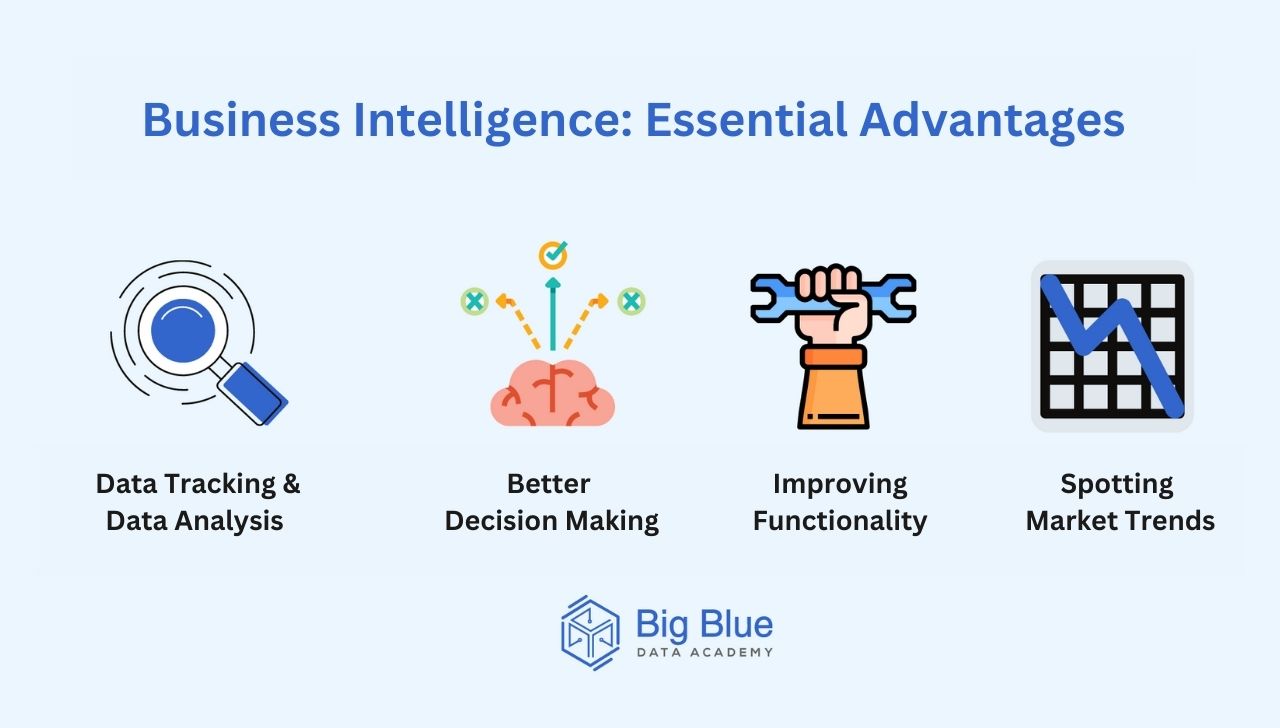 Advantage #1: Data localization
Arguably, one of the main advantages of Business Intelligence is identifying and analyzing the right data.
Even an SME needs to track hundreds - if not thousands - of indicators to know its performance. In fact, in large companies, tracking all indicators is almost impossible, let alone understanding them.
This is where Business Intelligence comes in, as it identifies the most important data to keep an eye on and at the same time - through tools - different weights are given to each indicator (KPI), depending on its importance.
Thus, a company does not waste time looking for which data to analyze, but makes the most of the appropriate data at its disposal.
Advantage #2: Decision making
Business Intelligence helps executives through analysis, data mining and visualization to get a complete picture of all the data in their organization to make better decisions.
In the image above, we can see an example of data visualization, where the map shows different regions and the revenue they have generated for a business.
This makes the data easier to understand and better decisions can be made.
In fact, in a 2019 survey by FeedbackLoop, 91% of respondents said that data-driven decisions are very important, while 46% said that lack of quality data is one of the main reasons for not making the best possible decisions.
Making evident the need for data scientists in all organizations.

Advantage #3: Improving functionality
One of the things BI tools do best is identifying various weaknesses in systems and processes.
This can be either because a system is overloaded or because it is not being used properly.
Either way, increasing efficiency is a major concern of Business Intelligence, since it can not only make the work of various professionals more productive, but also save companies money

Advantage #4: Identifying market trends
This is probably one of the main advantages of Business Intelligence, since it presents data from the past and present, always in a business context.
That is, analysts can read the data at their disposal and identify trends that they otherwise could not.
In this way they can exploit these trends to their advantage and always keep up with market trends.
Therefore, Business Intelligence helps businesses to:

Find ways to increase their revenues
Analyze consumer behavior
Compare data to find ways to improve their business
Monitor their progress
Optimize processes
Identify trends
Discover problems

I'm sure this all sounds great - and indeed it is - but let's look at some of the main tools that can help a business with the above.

In this section we will introduce 3 of the main Business Intelligence tools that businesses can use.
Although their purpose is to simplify data, there must be people who know how to manage it so that this data can be interpreted appropriately.
This is often done by data scientists.
Therefore, if you want to learn all about the world of data science and become sought after in the job market, you can discover the Data Science Bootcamp.
Let's look at the tools.

Tool #1: Tableau
Tableau specializes in locating and visualizing data.
With this tool, one can view, analyze and share data, even without the intervention of someone from the IT department.
Tableau supports data from various sources, such as Excel, Oracle, MS SQL, Google Analytics and Salesforce, and presents it in a unified display that is easy to use.
It's arguably one of the most popular BI tools, so let's move on to the next one.

Tool #2: Oracle BI
Oracle BI provides a wide range of applications related to business intelligence.
It gives users all the information they need to make a decision while presenting it in a relatively simple way.
This tool is suitable for companies that manage a large amount of data and need things like data storage, visualization, alerts, and more.

Tool #3: Microsoft Power BI
Microsoft Power BI is one of the main web-based business intelligence tools
It allows its users to identify trends in real-time and view data in a simple and easy-to-use way.
Moreover, it can be connected to various other applications so that data is always easy to access and make the right decisions based on it.
In a nutshell
So we have seen what Business Intelligence is and how it can help a business.
We have even analyzed some of the key benefits it offers, as well as some important tools that one can use to get the most out of the data.
As we mentioned, as helpful as these tools are, using them properly is essential.
This is why it is very important for a company to have a data scientist who can analyze and make sense of the data.
If you want to be that person and you are fascinated by the world of data, don't hesitate to register for the Data Science Bootcamp!